Carl is a Native Oregonian who moved to Bend in 1996 to escape the rain and traffic of Portland, and began his Career in the Mortgage Industry in 1998 as a loan officer. In 2004, he stepped into the fast paced world of Wholesale Mortgage Lending with a large national lender as an Account Executive.
When the industry took a turn for the worse in 2007, he used the opportunity to return to his roots and founded Mid Oregon Lending, Inc. Since starting the company in early 2008, he's enjoyed tremendous success as one of the area's few remaining fully independent mortgage brokers and values his relationships with his clients and colleagues in real estate above all else.
He and his wife, and their family are proud to call Central Oregon home, and enjoy everything the area has to offer. When he's not working with his clients, you'll find him camping, fishing, golfing and enjoying life with friends and family. They're proud to call Bend home, and happy to be your neighbors.
As a member of the Oregon Association of Mortgage Professionals for 8 years, Carl is a staunch business advocate for the industry.
Read what Carl's customers have to say about him by clicking here.
Carl Salvo, President
Office (541) 728-0390
Cell (541) 749-0749
contact now
NMLS # 281716
Becky Joye, Senior Loan Officer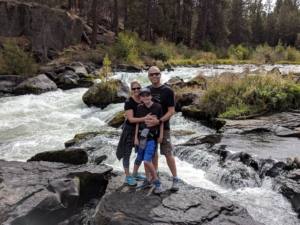 Becky is a native Oregonian, moving from Newberg to Bend in 1995 to chase sunshine.  After working in emergency services for a number of years, Becky's career evolved into finance, management and analytics.  In 2014, she earned her Master's in Business Administration from Concordia University, and decided to chase a passion that blended working directly for clients and real estate – so she began her career in the mortgage lending industry.
Becky chose Mid Oregon Lending over many other banks for simple reasons.  Mid Oregon is a truly local company.  Because of that, she can provide personalized service that so many companies are missing today.  She values providing honest, prompt communication, and working in a unique business model that places clients FIRST.
Becky loves chasing the best deal for her clients, and helping clients work through tough situations.  Working as a broker allows her to access multiple wholesale lenders to take the shopping frustration away from the client, allowing her to find the best deal for their unique situation.
When not working, you can find Becky running a trail, or working out at her favorite CrossFit gym.  As a travel junkie, she is also a lover of adventure.  She can often be found exploring anything from beaches to mountains and loves scuba diving and spending time with her family.  She lives in Bend with her husband, Kyle, who is a Deputy Sheriff,  son, Asher as well as a handful of family pets.
Becky Joye, Mortgage Loan Consultant
Office (541) 728-0390
Cell (541) 420-2527
contact now
NMLS# 1152691
Laurie Jarvis, Loan Processor
Since 1986 Laurie has worked in banking, escrow, real estate and mortgage lending in Central Oregon. She actively assists and supports the Team as your loan moves through the application, submission and closing processes. With her extensive knowledge and experience, she takes pride in being proactive to help insure your loan is closed professionally and on time.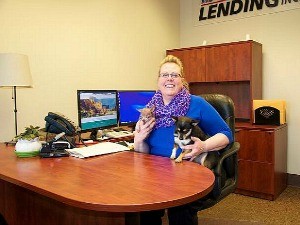 Laurie has called Central Oregon home since 1965 and has lived here long enough she refers to herself as an 'Almost Native Central Oregonian'. Laurie graduated from Bend High School (back when there was only one high school) and is honored to live, work and raise her family here. Laurie is the proud parent of two, Grandma of four, and mom to two rescue dogs (Jackson and Vino).
When not working, and spending time with family, Laurie volunteers for Heaven Can Wait which is 5k walk/run held on National Cancer Survivors Day (the first Sunday in June). The funds raised help support Sara's Project. As a breast cancer survivor, Laurie is happy to be involved with this local organization as it provides education, early detection and support services to woman and men battling breast cancer in Central Oregon.
Laurie looks forward to supporting the Team and making your closing a happy experience.
Laurie Jarvis, Loan Processor
Office (541) 728-0390
contact now